Dona International gives the definition of a doula as a trained professional who provides continuous physical, emotional and informational support to a mother before, during and shortly after childbirth to help her achieve the healthiest, most satisfying experience possible and for most expectant mothers, this is a much needed service during their pregnancy and childbirth journeys although older women may sometimes be at hand to offer advice, usually from personal experience of what to expect before, during and after childbirth and especially to first time mothers.
In the ongoing Covid-19 pandemic, so has the worry of many pregnant women doubled given the circumstances we are living in and understandably so. For every mother, delivering a healthy baby is top priority and bringing this baby into a world devoid of life threatening viruses, even more assuring. And so to get a better understanding of the work of doulas, I spoke to Finland trained Kenyan Nurse, Childbirth Educator, Labor Support and Lactation Specialist, Wambui Wanguhu Wanjau, who provides doula services to expectant mothers under the befitting name, Doula Wambui. In her narration, she shares her motivations, how she has been impacted by the pandemic and what she hopes to achieve post-covid-19.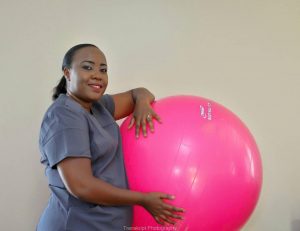 Meet Doula Wambui:
My name is Wambui and I am married with two sons aged 7 and 4. I have a degree in nursing from Helsinki Polytechnic where I studied for 4 years. After my studies, I secured a job in Australia where I worked for 4 years before deciding to be a travel nurse. As a travel nurse, I worked in different states and in one state I got to meet my first doula who was also a midwife. I never thought about it until I came back home and felt there was a gap in Kenya. I then decided to pursue it seriously and proceeded to get the qualifications as a Childbirth Educator, Labor Support and Lactation Specialist.
While pregnant with my first son, I had fibroids that were growing faster than the baby and that made my pregnancy high risk. I had my husband, family and friends who supported me well but I also wanted someone who understood my issue or even gave me practical advice on how to deal with the pregnancy and spend time listening to me more than the doctor did or even teach me how to breastfeed my baby when he came. With that in mind, I remembered the doula and the work she did and I decided it was time to pursue that work. My first 'client' was my sister-in -law and her birthing experience made me sure I was headed in the right direction.
The challenge of being a doula at the beginning was getting clients as many people still don't understand the role of a doula. So getting someone to pay me to labor with them in a society where mothers do that work was hard to find. But with time, ladies came to appreciate my role as a doula and they started referring me to their friends and that's how my business took off. Every birth is a beautiful miracle and I am constantly amazed by how God designed women to give birth and the strength women have as they bring forth life.
Every birth is a beautiful miracle and I am constantly amazed by how God designed women to give birth and the strength women have as they bring forth life.
Doulas have many benefits and they include:
reducing one's chances of having a C section because you have a cheer leader with you constantly letting you know you can do it.
Women who use doulas have a reduced chance of using pain relief as they have support in receiving good comfort measures from the doula.
Women who use doulas may have shorter births and this is attributed to them being relaxed and allowing the body to produce oxytocin which is required during labor instead of being afraid and reducing oxytocin release which may prolong labor.
How has Covid-19 impacted me? Covid-19 has unfortunately affected my business as mothers are now not allowed to go to hospital with more than one person to support them and their partner is most preferred, understandably, so I have been mostly supporting mums on the phone. This can be a bit hard to explain sometimes but I have had good feedback from my support. After covid-19, I would like to get funding to train Community doulas so they can support women in the lower income areas to have positive birthing experiences by giving them the right support.
ABOC Directory celebrates the work that Doula Wambui has been doing and keeps doing. To get in touch with her for doula services or support her in terms of funding, follow her on
Twitter
Instagram
Facebook
Send her an e-mail: doulawambui[at]gmail.com
Article courtesy of ABOC Directory.