For the umpteenth time in recent weeks, I woke up from sleep wondering about politics in my country, Nigeria.
Never, since my adolescent years, have I been so drawn to political happenings in the country as in recent months. Living away from home, the situation is such that I often check the news and YouTube channel to see which content from my country is worth my time. A favourite of mine these days is the vox pop where people are asked who they will vote for in the upcoming presidential election. Beyond choice, the exercise reveal a lot about worldview.
For me, it's all about interest: an interest that long stretched beyond my passive nature, when even the picture wasn't clear. It had been hazy, as foggy as hell, and this typically allowed for all manner of permutation. If this and this happened, I thought, this could happen. If party A does this, it could translate to this. And so on and so forth. And as the days passed by, I committed myself.
Kensede Obong Okosun, my university classmate, had, in May last year, shared a video of one of the politicians touted to be in line to vie for the presidential ticket of one of the two major political parties ahead of the presidential election scheduled for February 25 this year.
After watching the clip, I replied: "Thanks for sharing. This one long won my heart! I'm just waiting for the evil men in his party to give him the ticket and I would send him $100 as my investment to see him become president. Poor me would do that! It would be the first time I would be involved in partisan politics. That's how seriously I take the Nigerian project now."
The candidate I referred to was Peter Obi, a former governor of Anambra State who, at the time, was a member of the Peoples Democratic Party (PDP). Obi, a thrifty politician, soon defected to an obscure Labour Party and within days, emerged the presidential candidate of the party. He didn't wait for the decision makers of PDP to decide who they will select the presidential flagbearer of the party.
If anyone thought that Obi's defection to a little-known party would do damage to his ambition, it achieved the opposite as his support base soon morphed into a huge, cult following. It surpassed anything anyone could have generously imagined for him. Dismissed initially by political opponents and their supporters as just a group of people using their social media platforms to propagate their views about their preferred candidate, no one doubts anymore the threat posed by Obi's supporters who cut across the east, west, north, and south of the country and call themselves "Obidients." Across the regions, rallies have been held in support of Obi's candidature and it matters to some of his followers that the man comes from the southeast region of the country that is yet to produce a president since the country's return to democratic rule in 1999.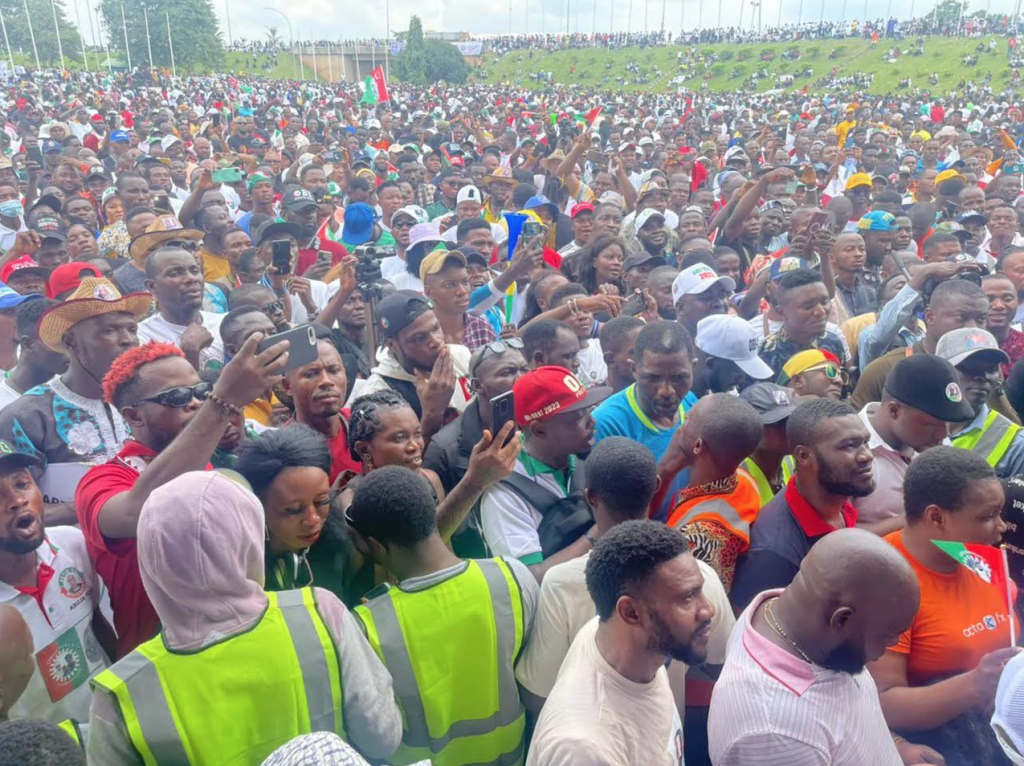 To put it simply, never, since I became politically aware in my over four decades existence so far, have I seen anything like this. Casting aside their ethnic and religious differences, more Nigerians, by the day, continue to identify or pitch tent with Obi, a businessman turned politician as the person to rescue their country from the depth it finds itself and most opinion polls, so far, rate him as possible winner of the election.
A few years ago, I met and interviewed a US based Nigerian who proudly told me that he not only wished for Muhammadu Buhari, Nigeria's outgoing president, to become president in 2015 under the ticket of the All Progressives Congress (APC), he contributed money to his campaign.
Having now committed to doing same for Obi, I found myself, with limited fund and rising expenditure, running against time to fulfill it, and what a relief that I eventually did.
I did this by sending through someone the naira equivalent of the sum through the account provided by the Labour Party on its website.
Let's be clear. This is not an ego trip. There's absolutely no need for that but I find myself writing about this.
The man who supported and contributed to Buhari's campaign did so because he believed that he would help to change or bring about a better Nigeria. He was not alone. I remember the euphoria that greeted Buhari's emergence as the presidential flagbearer of the APC in 2014.
I was a journalist with TELL Magazine at the time and monitored the APC presidential primaries and subsequent campaigns. Buhari's victory at the polls against the incumbent Goodluck Jonathan of the PDP, I thought at a point, was a forgone conclusion. It happened as I predicted. But the jury had been long out on Buhari's performance since assuming power. To say nothing of the tales of many Nigerians that I know, that the National Bureau of Statistics months ago came out with a report that 133 million Nigerians out of an estimated 216 million people are poor, says a lot. Constant electricity still remains a dream while insecurity and inflation have been nightmares for many in parts of the country. Under his watch, university lecturers went on strike that lasted eight months as a way to compel the government to better fund education. The abject situation generally has sparked a migration described by some analysts as unprecedented in Nigeria's history. Nigerians are still leaving in droves for foreign lands in search of a better life.
It is against this backdrop that Obi comes into the scene igniting hope in many people.
Since pitching his tenth with the Labour Party and inspiring a movement unseen in Nigeria's history, there have been lots of talk about his chances by diverse commentators. While his supporters remain hopeful that he will win the election, his political opponents and their supporters insist he stands no chance. Those who see no hope of Obi emerging victorious cite his lack of political structure as his undoing and say this will count against him on election day. By political structure is meant different layers of a stratagem propelled by cash. Politics, to such commentators, is a cash and carry business and the more money a politician and his political machinery spend during an electioneering campaign, the more votes he is likely to be rewarded with on election day. It's a reminder of the extent politicians have soiled the political space in Africa's most populous country but to discount the growing angst, awareness and hope among Nigerians who insist they have found an answer to their problem is risky. To think that a long-suffering people are incapable of dismantling a yoke and rising above ethnic and religious sentiments and tokenism that have held them down for long is demeaning. Those who insist on just political structure as answer to political success, discount the collective will of a people to make a statement and change the course of their country's history.
As Olusegun Obasanjo, former Nigerian president, said recently in his public letter in which he endorsed Obi, none of the presidential candidates of the respective political parties seeking the people's votes is a saint, but in Obi, many Nigerians see hope for a better Nigeria. They see a man averse to waste and all manner of ostentation and a man who, if elected president, could do their bidding. In this regard, one analyst said that Nigerian youths are scheming to use Obi to achieve an agenda. It's the first time, in Nigeria's political firmament, I would hear such argument. Nigerians are used to politicians taking advantage of the people, living large at their expense, and becoming inaccessible once finding themselves in leadership positions but we now hear of the possibility of the reverse?
Will the dreams of the Obidients come true? If it does happen, someone thinks it will be the beginning of the birth of a new Nigeria, one that, given what many generations of Nigerians have experienced in their lifetime, won't be frittered away like the country's many missed opportunities.
Anthony Akaeze is an award-winning journalist and author of four books and co-author of the recent book published by Taylor and Francis in the UK titled Media Ownership in Africa in the Digital Age: Challenges, Continuity and Change.