Family planning and reproductive health are often portrayed as women's responsibilities, few male contraceptive methods are available, and, providers often fail to include partners when serving female clients especially when they have problems relating to reproductive health.
I bring you a story of 2 families in the rural setting of Northern Uganda that will tell us the benefits of having men involved in family planning.
Santa's Story
Acen Santa, a 38-year-old vendor in pece cubu, a suburb in the outskirt of gulu city, says her husband has never accompanied her to any hospital visits and Family planning is a "Myth" in their household.
Acen has 7 kids, with a 1 year or less age gap between her children, and bears the burden of raising her children alone. Her husband Mr. Rubangakene is a boda boda rider and hardly supports his family according to Acen. When asked why she doesn't use family planning to space her children, Acen says her husband is strongly against it, and one time hit her when she brought it up for discussion.
In some parts of Northern Uganda, Family Planning (FP) discussions between men and women are complex and often include outside influence from mothers-in-law and other relatives. Additionally, male attitudes towards FP can affect contraceptive use indirectly. In the absence of explicit communication, women often incorrectly perceive that their partners are opposed to FP and therefore use contraception without telling their partners or don't use contraception at all.
Engaging men in family planning (FP) has been found to improve programmatic outcomes and increase gender equality. While there have been few hiccups in involving them, evidence indicates that male involvement can lead to contraceptive uptake through the pathway of increased spousal communication.
Lamwaka's Story.
Oryema and his wife Lamwaka were both 17 when they got married in 2009. They live in a remote village of coopee on Gulu-Kitgum road where most residents are peasants and not very educated. Like many other such villages, the community has very limited access to reproductive health information.
Before they were visited by Village Health Team (VHT) workers, Oryema and Lamwaka had witnessed many young couples facing very serious health problems in pregnancy. A girl from their village had recently died from such complications, adding to their fears and confusion.
"We were unable to understand the reasons of her death," says Oryema, "But when we attended a sensitization session organized by the VHTs, we came to realize that pregnancy before the age of 18 is dangerous for women."
What he had seen happening to other young couples, and the information and counseling provided to him by male VHT workers led Oryema to take a step that was novel for a young man in his community: "I did not want my young wide to face any problems in pregnancy," he says, "So we decided together to delay her first pregnancy until she turned 20."
Lamwaka talks about the impact her husband's support had on her ability to practice family planning. "In our society, a woman has to face a lot of criticism from relatives and neighbors if she does not get pregnant within the first few months of marriage. I do not let such criticism affect me, as my husband is standing by me and fully understands that delaying pregnancy will be very helpful for my health."
"As a responsible husband, talk to your wife about birth spacing for the health of your wife, children and overall prosperity. The health of the mother and the child is of utmost importance, so plan the next pregnancy after 2 years and use any suitable contraceptive method during this period" Oryema advices fellow men.
These 2 stories show that men play critical roles in women's ability to seek health care, yet, more often than not, some are uninformed about women's reproductive health needs or their own. Men are partners in reproduction and sexuality. Men's reproductive health and their behaviors impact on women's reproductive health and children's well-being and society as well.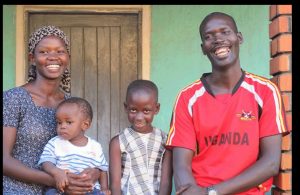 All smiles from this young and well-spaced Family: PHOTO: Health Policy Project.
According to Filda Anica, the in charge reproductive health Uganda Gulu branch, very few women come with men to access family planning services.
When asked why most men shun visits to Family planning clinics, Filda says most of them claim to be busy, others don't want to stop having children because they think they can take care of them, while some fear the side effects of family planning like hormonal inbalances.
Opiro Martin, a resident of awach sub-county in Gulu district says that the government should sensitize men on radio to address demand-side barriers to family planning, such as male-child preference and early marriage and child birth, along with creating awareness of the importance of birth spacing.
"I believe this will increase in the proportion of men likely to have an actual conversation with their wives about family planning, and improve spousal communication" he adds.
Myths, misconceptions and cultural taboos can make it difficult for women to find family planning resources, especially if men guard their access to key health information, finances and transportation.
That is why it is important for SRHR providers to work through nontraditional means to build trust with communities including men and boys working with religious leaders to garner support for family planning in communities where contraception is often viewed as a "woman's issue."
Religious leaders are influential and trusted members of their community, and can play a crucial role in dispelling myths about contraception and providing information on how to use and access services. Religious leaders can also help break down gender stereotypes by providing a powerful example of how men can respect and support a partner's reproductive health decisions.
Background history of Northern Uganda.
During 1986–2006, northern Uganda experienced an intractable civil war that led to the displacement of an estimated 1.6 million (90 %) of the inhabitants into Internally Displaced Persons (IDP) Camps. The civil war led to poor health status with the region having the worst health indices in the country. The total unmet need for family planning in the northern region, among married women was 46 % compared with 41 % nationally. Contraceptive use was at 12 % compared to the national average of 23 %. There was high rate of abortions and unwanted pregnancies. One in every five pregnant women in northern Uganda had had an abortion, while 50 % of pregnancies were unwanted. The total fertility rate estimated at 7.5 was one of the highest in the country.
So special efforts need to be made to emphasize men's shared responsibility and promote their active involvement in responsible parenthood, sexual and reproductive behavior.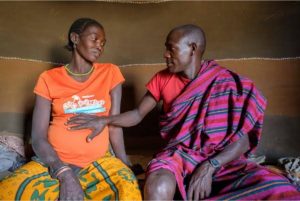 Man holding a baby bump. PHOTO: UNICEF
Conclusion.
The government of Uganda and other stakeholders need to design programs that involve men in family planning, encourage use of male methods of contraception, and encourage men to support their wives in using birth-spacing services in the interests of maternal and child health.
Also, women must be in a position to decide whether they want to get pregnant or not. In the past, the gender discourse had to focus on women's reproductive health and rights, partly because so much had to be done to realize those rights. And since a lot of that work remains unfinished, the focus should not shift away from women.