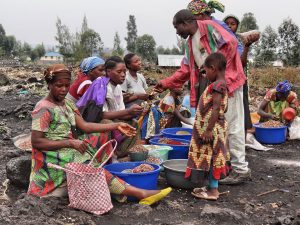 More than three million people, including hundreds of children, risk starvation in the province of Kasaï, in central Congo DRC, said the UN food agency World Food Program, in the second quarter of last year. Thousands have been displaced in Kasaï region due to fightings between DRC armed forces and the local mitia Kamwina Nsapu.
The Democratic Republic of Congo has been ravaged by two decades of war that claimed lives of more than 8 million people. From the 4.1 million internally displaced people identified by the UN Humanitarian affairs coordination office, 46% are children suffering from severe acute malnutrition.
Back in 2014, thousands of internally displaced people (IDPs) in North Kivu province faced the same risk as those in Kasaï. Citing financial constraints, Humanitarian organizations decided to narrow beneficiaries of food assistance and provide it only to the most vulnerable people in camps. These include rape victims, old people and those living with HIV.
According to the World Food Program (WFP) in North Kivu's media and communications officer Djaounsede Pardon, these financial problems were a result of other crises that erupted in the region and around the globe. Children became the top priority.
"We have more than ten primary schools in Goma benefiting from WFP's school feeding program. And those programs are not only destined to displaced people, but every malnourished person in and around the camp."
At the time, Theophile Niweyimana was living with his family since 2012 in Mugunga 3 camp, 10 km (6.2 miles) west of Goma. They fled fightings between the Congolese army and armed militias in Masisi territory.
As he didn't fit the criteria, Theophile was cut off from aid assistance and had to find a way to feed his wife and four children. His entrepreneurial spirit came into play. But he needed a capital.
"I was making money by transporting luggage from passersby, Theophille said. "When I saw someone charging cell phones next to the camp, I asked to take the electricity from his generator to my own house so that phones can be charged in the camp" he added.
Shortly, the 29-years-old self-made entrepreneur bought his own generator. Not only did he charge cell phones for a small fee in return, he also supplied electricity to a nearby saloon.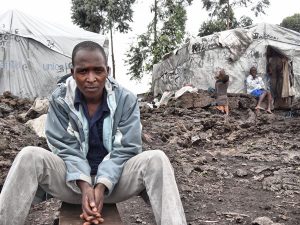 His daily income of less than 4 euros allowed Theophile to feed his family amid famine threat on Mugunga camp residents. However, this autonomy comes with challenges.
"If I lose a client's phone, it's not easy to buy a new one and feed my family at the same time" he said while regretting that "Sometimes Congolese soldiers refuse to pay and want me to charge their phones for free while I pay for fuel for them. What can I do?"
This small business helped Teophile surivive until the closure of Mugunga IDPs camp in August 2017. He returned to his village in Masisi territory, with the hope of expanding his business and creating jobs for other young people.
Theophile's life is an evidence of how entrepreneurship could serve as a life-jacket to millions of internally displaced people risking famine in Kasaï province.
Gaïus Kowene  http://twitter.com/gkowene