When Christine (second name withheld for privacy) began investing much of her time on social media, it was to promote her modelling career. The first time she posted her photos, she was attacked on her timeline, but took it lightly. When this became recurrent, she began losing her self-esteem, got depressed and spent two months indoors.
"Each time I posted a picture of me on social media, I could get random comments and messages of how I am very small and that i should eat a burger or something to make me gain more weight." she recounts.
Christine's harrowing experience mirrors what many women in Uganda go through online. As the world continues to battle the pandemic which has upended our way of work, many people are increasingly relying on the internet (and social media) to communicate while ensuring that there is social distance. But as many opt for online communication, the number of online harassment is also increasing.
A recent report by the Uganda civic-technology research firm policy, indicates that one third of women in Uganda have experienced online gender based-violence (OGBV). Among the most common type of online harassment is sexual harassment, accounting for 42 percent, followed by offensive name calling (24 percent) and stalking (17 percent), the report adds.
To ensure that online harassment against women is addressed, several women led NGOs and CSOs are empowering women on digital safety through capacity building trainings.
For Christine, one day she stumbled upon a call for digital safety training, which she says, was ray of hope. The training was meant to equip women with digital skills on how better they can protect themselves online. She applied and she went through. Christine, who now trains her peers on digital safety, says her major motivation was to stop online violence incidents that women and girls experience daily.
"Just like me, many women have become targets of hate speech, revenge pornography, trolling, cyberbullying yet they don't have a full understanding of what digital security is, which calls for digital safety trainers like me to step in and assist in providing strategies for prevention and response." she notes.
Similarly, Ms. Aida Bakubuza, another female digital safety trainer with AYDIA TECH a female led Tech organization, adds that her emphasis has been on regularly empowering semi illiterates and illiterate women, who use internet through their smart phones, arguing that they are more vulnerable to online fraudsters.
"I have been very persistent in addressing digital advocacy towards improving women's lives," say Ms. Bukubuza who is also a computer scientist. "And it's against this that I took a journey to learn, unlearn and relearn skills to address the digital threats that threaten women's participation in online spaces." She adds.
Aida Bukubuza, during one of her Digital Safety Training Sessions. (Photo: Ruth Atim)
Ms. Bukubuza has trained several women from all works of life: from market women, who use online spaces to market and sell their produce to university students, who use the internet for research; and then female politicians, vying for different political positions among others.
Specioza, one of Aida's trainees says the digital safety training enhanced her knowledge about digital rights and the various ways in which women's rights are abused especially the aspect of non-consensual sharing of intimate images and how victims can be helped and most importantly how to be safe online with the digital security tips. She added that two factor authentication, having strong passwords, backing my data more often, not sharing my password among others were her take home from the training.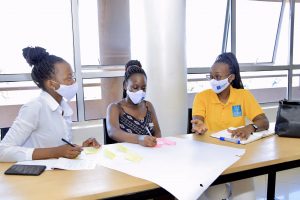 Specioza, (In white long-sleeved Shirt) Listening to a Digital Safety Trainer during our of the Training Sessions.(Photo: Ruth Atim)
Prisca, another digital safety trainer from Arua city, says that the profession has been rewarding since it has strengthened her research skill and pushed her to read more so as to keep up with the ever-evolving technology. She adds that the training has also helped in closing the digital gender divide where there are few women in technology compared to men.
"This has been due to gender-biased attitude and stereotypes towards women and girls from a young age because of the assumption that boys or men are better in Science Technology Engineering and Math (STEM)," she says.
On the other hand, Sandra, says her biggest satisfaction as digital safety trainer, is being able to 'change lives of women' and 'empowering them to their full potential' when it comes using technology resources to protect themselves online.
But to Christine, the satisfaction that comes with training fellow women on digital safety is overwhelming because many of them do not know the basics of digital safety so it always motivates her to introduce this information to them and help them live more responsibly on the internet.
There are several challenges hampering digital literacy, says Zaina, a 31year old digital trainer, arguing that digital illiteracy is still rampant amongst many women and girls especially those in peri-urban and rural settlements. The digital divide gap, she says, is visible because of lack of access to digital tools and the human resources to roll out training services in such places.
"We need to create an enabling environment for girls from a young age for them to take up (Science Technology Engineering and Maths) STEM. And while we teach tech in schools, we also need to introduce internet safety into the school curriculum." She adds
On a recent day, as Susan, also a digital safety trainer, prepared for her class, she started off by organizing her notes—slides and printouts, with infographics, which she heavily relies on to summarize her notes for trainees to understand easily.
"I always ensure that before the training starts, participants list out their expectations of the training and these expectations are reviewed at the end of the training" She adds.
With the number of internet users significantly increasing, so do the potential risks. While technology has become an integral part of our lives, many women do not know how to use digital technology responsibly. We are grateful to these young women who have ventured into this male dominated field as Digital safety Trainers (people who train others on how to use the internet safely) to empower other women.